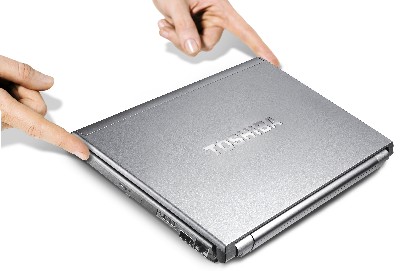 I'd just thought I'd up date you with a few new gadgets around at present that may interest you.
The first is my new Toshiba Portege' laptop. It's very light and a joy to carry around. It's that thin it even fits into an A4 notepad holder. Which is nice, and nearly as light as the ASUS >>
The second gadget we've all got this summer is a new
ASUS eeepc
to use for notetaking and web surfing. They're great, and only 200 squids. This PC market is going to grow. And you can get it in Linux or Windows flavours.
Don't forget that ASUS now sell a
cut price desktop
(above) as well called the
eee box
.
The new flip video device (the ipod of video?)
Two new cut price video cameras are also out, the
flip video
( trying to be the ipod) and the
busbi (about 35 quids)
I've had a quick go with the
busbi
, but not sure of the quality of video. They are both designed to take short clips and copy to your PC easily, then upload seamlessly to the web (without worrynig about
CODEC
s) . This
Youtube vid compares
flip with another .
Personally I'd reccomend a good digi camera with video capability. The one I've been using recently is the
Panasonic Lumix
. A whopping 10X optical zoom. Its a
fab compact camera
, and quite resaonably priced.
The final gadget we were all provided with recently is an
Orange USB modem
. This allows you to access the web/email on the move (with your laptop), when not in range of a wireless network. It works a treat, but requires a little tinkering to ensure it does not conflict with your existing internet connection settings. Avaialbe on contract.
Another device I've recently come across is the
Skype phone from 3G
. Its available on contract and allows you to call other skype PC users. It works as a normal mobile , but with the extra skypey bit. It also allows you to tune in to certain TV stations from a nominal fee. And the phone can be used a
modem to plug into a laptop
on the move , abit like the USB modem above.
Lastly have a look at this neat
Ultra Thin Digital Recorder